Digital Videos:
Details on the laser disc release of Some Great Videos
This laser disc is the video companion to Depeche Mode's first singles collection, known as The Singles 81->85 to most of the world, but released as Catching Up With Depeche Mode in the US.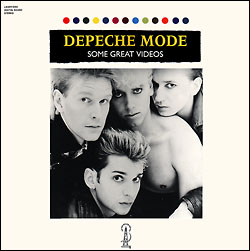 US Release
Chapter
Length
Title
1
[time]
Just Can't Get Enough
2
[time]
Everything Counts
3
[time]
Love In Itself
4
[time]
People Are People (12" Version)
5
[time]
Master And Servant
6
[time]
Blasphemous Rumours
7
[time]
Somebody
8
[time]
Shake The Disease
9
[time]
It's Called A Heart
10
[time]
Photographic (Live Version)
11
4:24
A Question Of Lust
Some Great Videos was released with two different track listings. The US version has the added track of A Question of Lust. This difference mirrors the differences in the VHS release. This laser disc was released in Japan and the US.