Digital Videos:
Details on the laser disc release of 101
This laser disc is the first and only feature-length film about Depeche Mode. Filmed by respected director, D.A. Pennebaker, 101 is considered by many to show Depeche Mode at it most widly accepted point, stuffing 70,000 fans into the Rose Bowl in California.
The following appears on the sleeve:
A film about music, about those who sell it and those who buy it. Those who direct it and those who write and perform it. Those who just listen and those who listen and never forget. Master and servant. But which is which...

The new music. Four young Englishmen. Friends who have grown up together. The began with keyboards and a tape recorder because drums made too much noise around the house. No manager (they do that themselves) and no contract with their record company (MUTE. just a handshake).

Concert tour. Surrounded by a buccaneer crew of British and Anzak technicians, three forty-foot semis and equipment that belongs on a launch pad, they range across the landscape, setting up and striking week after week, city after city. Up by afternoon and out by dawn. Not even time for a soundcheck.

Engulfed by seas of fans, who slip through cracks in the wall and haunt them backstage, youthful Americans who will soon inherit this landscape. And close behind a special bus full of fans, winners in a be-in-a-Depeche-Mode-movie-contest trying to catch up with their idols. (They did finally at Tempe, Arizona, only to lose their way to the concert and miss them after all.) At the tour's end (the hundred and first concert) nearly seventy thousand fill the Rose Bowl stadium in Pasadena, California to watch a spectacle of lights and music performed by four friends, on three keyboards and vocal mic...and a tape recorder.

And now it's a film. I don't think it's a documentary although it's about real people in real life. It's certainly not an acted film, although between the band performing onstage and the busload of youthful fans from New York crossing the country for the first time, there is in it every sort of performance you could imagine, from discovering the infidelity of a girlfriend to becoming a part of the giant audience at Pasadena. If I had to call it by any other name than a movie I would say it was a musical adventure, perhaps even a musical fantasy. It's not exactly what happened (no one can ever know exactly what happened no matter how hard they work at it), but it is a kind of fragmented, simultaneous vision of the lives of its participants, layer like the music it's set to, with what was funny and what mattered.

For me it remains a dream memory, gone and over now but still visible like a fly in amber for all time.

D.A. Pennebaker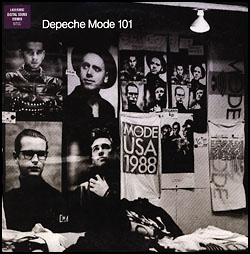 US Release
Chapter
Length
Title
1
0:53
Pimpf
2
4:24
Master And Servant
3
[time]
Route 66
4
[time]
Master And Servant (Revisited)
5
4:09
The Things You Said
6
5:06
Blasphemous Rumours
7
4:54
People Are People
8
6:16
Stripped
9
4:33
Black Celebration
10
4:36
Nothing
11
4:57
Shake The Disease
12
4:09
A Question Of Time
13
[time]
Route 66 (Revisited)
14
[time]
Behind The Wheel (Sound Check)
15
5:41
Behind The Wheel (Performance)
16
4:42
Strange Love [sic]
17
6:07
Everything Counts
18
4:01
Just Can't Get Enough
19
6:22
Never Let Me Down Again
20
[time]
Route 66 (Credits)
101 was widly released after its theatrical run. The chapters listed above only vaugely reflect the contents of the film. Most of the time, the songs that are listed above are simply the background music to the events occuring within the film. The Japanese version of the laser disc apparently included some inserts and lyrics. The laser disc was released in the US and in Japan.